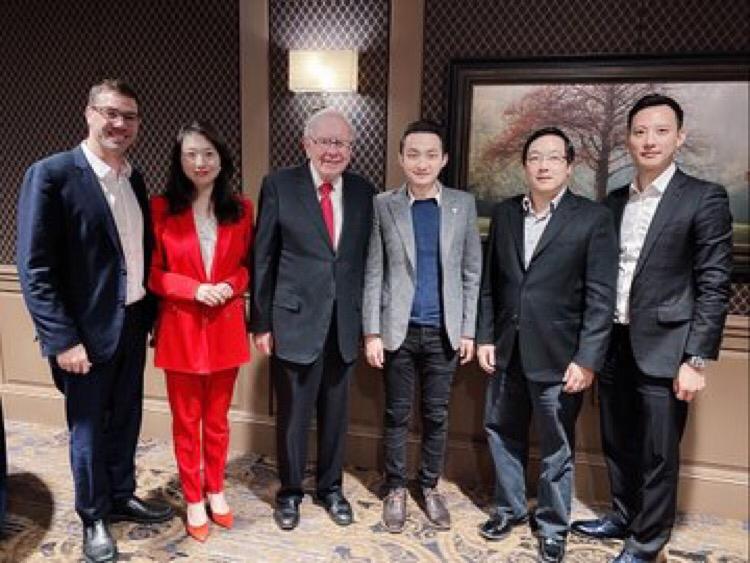 ---
The much anticipated lunch with Warren Buffet finally came to pass, Justin Sun, CEO of Tron Blockchain and tokens ($TRX) had paid a little over 4.50 Million USD for this lunch date with the elderly billionaire. A lot of crypto hopefuls, myself inclusive thought this was just a publicity stunt after waiting so long since 2019. Yesterday was the day the rumors were debunked and the two actually sat down over a $515 or more table to discuss about cryptocurrency. Bitcoin, Tron and a few others were at the center of their discussion as reported.
Justin Sun didn't go to meet Pa Buffet Alone, he had some follow-come(as we say in Lagos) guests with him and these guys are: Head of Binance Charity Foundation Helen Hai, Litecoin founder Charlie Lee, eToro CEO Yoni Assia and Huobi CFO Chris Lee. And maybe the media crew(chuckles) who took the photos as you can see from Justin Tweets.
Justin gifted Warren Buffet his first Bitcoin in a Samsun Fold wallet, but i seriously doubt if that's the first digital asset the old man has. Billionaires don't think like an average person and they sure do not follow most of the news in the media about cryptos being a security threat. A lot fans have gifted Mr. Buffet other tokens too like $TRX, maybe $LTC too and the news of the Bitcoin gift seems to have spiked the price of Bitcoin and Tron. Hopefully bigger things comes out of this lunch date, like a full scale Bullrun. Imagine if Mr. Buffet and his Billionaire friends decided to give Crypto a shot and pumped Billions into the Total Market Capitalization?
Till then, stay hopeful and well Justin Sun!