Now we know Bitcoin is big time, it just got it's own Emoji!
After promoting bitcoin for years now, Jack Dorsey finally updated his Twitter site to include an emoji for our beloved bitcoin.
Now, every time a user on Twitter writes #bitcoin or #btc, the bitcoin emoji will show up.
Jack was first to reveal the update: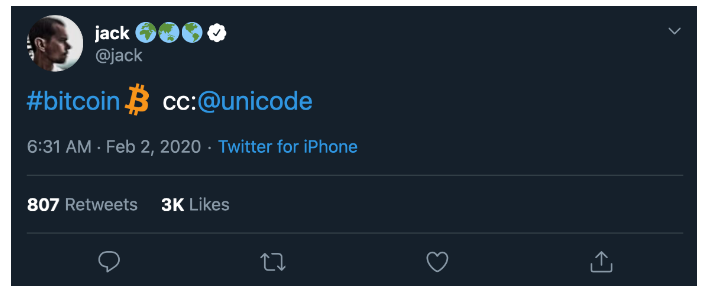 (Source: https://cointelegraph.com/news/twitter-adds-bitcoin-emoji-jack-dorsey-suggests-unicode-does-the-same)
The big boys take notice...
Soon after it was revealed, many in the crypto community decided they would try to get the new emoji trending on twitter.
Several crypto influencers joined in the fun as lightning labs co-founder Elizabeth Stark, Tron founder Justin Sun, and Binance CEO Changpeng Zhao all tweeted the new bitcoin emoji.
Their plan was to get the crypto community talking about it enough to get it trending on twitter and pull even more people into the crypto ecosystem.
Perhaps maybe someday we can do stuff like this on Steemit.com!
Stay informed my friends.
-Doc