Tom Lee says the perfect storm is brewing for Bitcoin and Crypto
Tom Lee of Fundstrat Global Advisors says there is a perfect storm brewing for bitcoin and crypto and it will likely send prices soaring more than 100% in 2020.
What 3 factors is he talking about you may be wondering?
Specifically, Lee says these 3 things will propel bitcoin:
Halving on May 14th
Geopolitical Uncertainty
US Elections
Add all three up and you get a > 100% rise in bitcoin and crypto according to Lee.
https://twitter.com/fundstrat/status/1215720377051242501
But wait, there's more...
Lee even went as far as to say the halving very likely is not priced in yet.
His rational?
According to Lee, most markets price in events 1-3 months out, with the possibility of maybe 6 months max, which means the highest probability is that the halving is not priced in currently.
Nice.
Lee and Fundstrat released their 2020 crypto outlook exclusively to their clients but made a snapshot available to the general public...
Which can be seen here: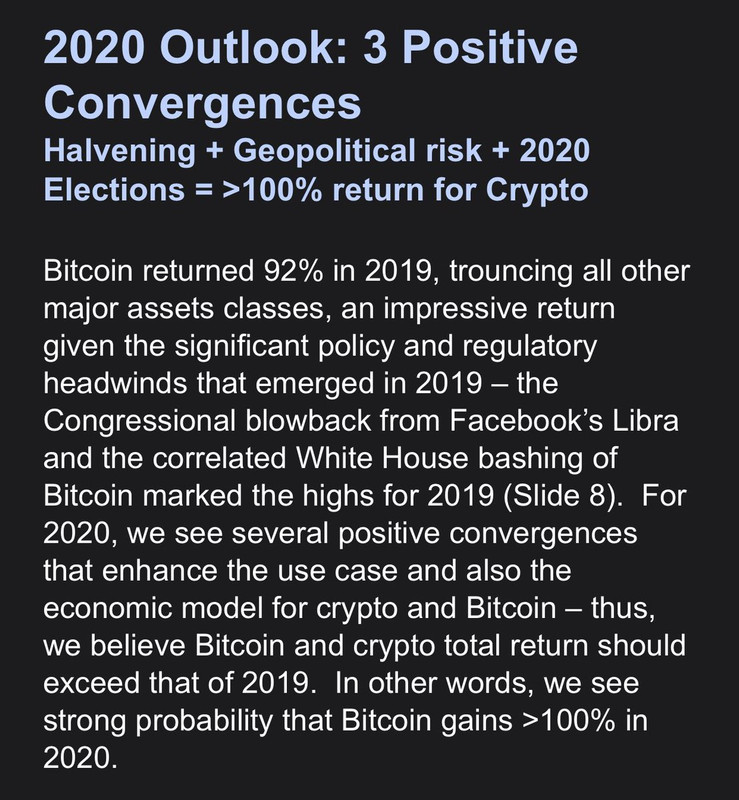 (Source: https://twitter.com/fundstrat/status/1215720377051242501)
I've followed Tom for many years now and the guy knows markets.
He gets grief for being a tad optimistic on some of his bitcoin calls, but overall I still think he is one of the best macro guys out there.
I think there is a very good chance he is right on with these calls.
Stay informed my friends.
-Doc